Artists provide the window on the worlds of our imagination....and fortunately one such is my brother and numerous others are my good friends, some of whom have done their own illustrations of my work....some for covers, the official covers, which you can check out throughout the website and on their own provided links.
But in trying to run this whole website like a science fiction convention online, with dealer's room (novels for sale!) and panels (the Newsletter)...here we are in the Art Show...where we display my own work, work of various artists we like, including my brother David, and various professionals and amateur artists kind enough to support this page (buy their prints!)...I thought you might enjoy seeing some of my concept sketches...and some art that was done by friends illustrating my books, friends who have very kindly let me put up what is really their work on my page. So the first 'room' of the art show is related to my work; and the second 'room' is various artists who hang their work here in hopes you'll want to buy one of their prints...their addresses will be provided. In some cases works are 'on loan' from other pages, and I will provide links so you can visit those, too.
I've loaded thumbnail images to speed this load. Click on a picture if you want to see it full-size.
First off...the main characters of Rimrunners.

Bet Yeager (c) 1996 by C.J. Cherryh

---

N.G. Ramey (c) 1996 by C.J. Cherryh

---

Science fiction, but the sort that might appeal to the occasional fantasy reader because of the strong natural-world ties, we have Rider at the Gate. And the world of Finisterre. And the nighthorses...telepathic, attitudinal... On a certain day pigs fell from the sky; and nighthorses view it as the most significant of events.

Nighthorse (c) 1996 by C.J. Cherryh
Burn, thinking of bacon.
---
Then to fantasy...and the land of Faery, wherein the unlikely pairing of Sasha and Pyetr from the Rusalka novels.

Sasha (c) 1996 by C.J. Cherryh

This is Sasha a little older than he was at the beginning of the story...but a young man who's been through what he has...grows older and wiser in a hurry.
---

Pyetr (c) 1996 by C.J. Cherryh
Pyetr was the disgrace of the village and a fellow of a bold, no, even an adventurous spirit...but explaining to his friend the wizard exactly what just happened in the garden requires a little doing...
---

Faery extends as well far to the east of Pyetr's village...to a land where goblins have a long history.
Asdraikh, prince of goblins, is a prime example of his kind., from Goblin Mirror.

Asdraikh the Goblin Prince (c) 1996 by C. J. Cherryh
---

And to the west...Faery of the west...the Celtic lot., from Faery in Shadow, The Dreamstone, Tree of Swords and Jewels.

Dubhain (c) 1996 by C.J. Cherryh
Dubhain is a pooka. His other aspect is that of a black horse. Otherwise he's a young man with an attitude and a knack for free expression.
---
Next, the folk in Hell...yes, Hell. I wrote a number of stories for Heroes in Hell, where the great minds of the past assemble to plot and plan. One of my principle Heroes in that series is Caius Julius Caesar, whose jeep driver is Decius Mus. The Romans have upgraded, and their chief outpost is the House of Augustus, who never bargained for Machiavelli as a permanent houseguest.

Julius (c) 1996 by C.J. Cherryh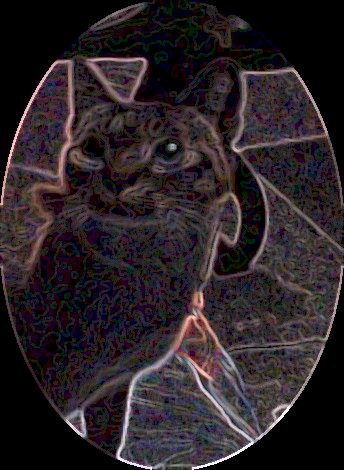 YSABEL....in modern art. I love this sfx thing.

In the next section...the views other artists have of my work.

Besides doing the Gate of Ivrel graphic (which you can purchase on this webpage,) and besides being a fine writer with multiple books to her credit (Groundties; Ring of Lightning, Ring of Intrigue) is a talented black and white and color artist, who has done a number of very fine illustrations of my characters.
Here is Grant, ALX for instance, from Cyteen.

Grant (c) 1996 by Jane S. Fancher
Grant is azi, a genius, and entirely comfortable with both descriptions.
---

Then, a picture which grew out of a discussion Fancher and I had during the production of the Gate of Ivrel graphic. A little girl named Medhwy has a fondness for Vanye...the incident is in the novel; but there was a charming sequence in the as-yet unpublished graphic volume 3 tha t I vastly regret didn't get published.

Vanye (c) 1996 by Jane S. Fancher
---
Visit Jane S. Fancher's own website for more of her artwork, including the truly amazing portrait of Thomas Mondragon, soldier of fortune and partner of Altair Jones, and owner of one of the most complex art title puns in existence.---Guilt, and Baroque...Again.
She has a reciprocal link to my page.
---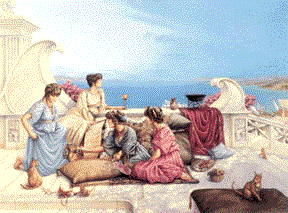 David Cherry has won most of the awards and honors available to an artist in his field, including the Polly Freas Award, the Frank R. Paul Award, numerous Chesley Awards for his book covers and fine art, and eight Hugo nominations, including one for his book IMAGINATION: THE ART AND TECHNIQUE OF DAVID A. CHERRY.
President of the Association of Science Fiction and Fantasy Artists (ASFA) from 1988 to 1990 Judge for the 1994 Spectrum Annual. Speaker at the Smithsonian Institution, regarding his art.
He'll do commissioned work, as well, including illustrations and portraits. Contact him for details. His e-mail is pineoak@dallas.net
Screen Saver: David Cherry's artwork is available in a screen saver from: Second Nature Software, 1325 Officers' Row, Vancouver WA 98661
PRINTS AVAILABLE, both photoprints and fine art. Originals are occasionally for sale.
Write to him at Pineoak Productions, pineoak@dallas.net.
And yes, he is my brother. I'm very proud of him.
Other Artists
Look in the Other Links menu for the location of Don Maitz' and Janny Wurts' art, and for Michael Whelan's page.